Installing Japanese Keyboards on English Microsoft Windows NT 4.0
This document describes how to set up an English version of Windows NT with a Japanese keyboard so that the characters appearing on the screen correspond with those on the keyboard.,A This is necessary because the various non-alphanumeric keys are in different locations, eg the ' key is Shift-7.
All of the instructions I have read on the Internet did not work, so I decided to try and work it out for myself.,A Readers should note that kbdjpn.dll is a stub driver and if you try and use this driver, nothing will happen!
I have only tried this on a UK release of Windows NT 4 with Service Pack 5 installed using a 109 key OADG keyboard.,A I do not know how this will function on other language versions of NT 4, but none of this will be necessary for NT 5 / Windows 2000 since it includes all keyboard drivers and IMEs in the standard version.,A All information + software is provided without warranty.
Note: I have since found that if Internet Explorer 5 is NOT installed, the operation is quite unreliable, eg it works in Notepad but not Netscape. However if you install IE5, it seems to work perfectly. Why?
---
Instructions for use
Download jpkbnt4.zip from this site and unzip.
Copy the .dll files to \WINNT\system32.
Double click on nt106kb.reg to load it into the registry.,A This tells NT that the keyboard drivers are installed.
In Control Panel, select Keyboard icon
On the Input Locales tab, select Add
Choose your normal language (eg English United Kingdom)
Uncheck "Use default properties for this input locale", press OK
On the Keyboard Layout box you should be able to select the correct layout.,A The ones available are AX2, IBM 5576, 101/104 and 106/109 key variations on OADG layout.
You probably want to select the new layout as the default option but it you require some keys from your national layout (eg Pound sign, Euro sign) it may be wise to leave it installed also.,A You will be able to switch between them using the indicator in the System tray.
These keyboard layouts do NOT enable any form of Japanese input, nor will the mode switching (Henkan etc) keys have any functionality.
---
Update: The mode switching keys do work with Microsoft Global IME 5.1 as shipped with Internet Explorer 5.01 (more or less). Push Alt-[henkaku-zenkaku] to toggle IME status, for example.
Installing Japanese Keyboards on Windows 2000
I had thought this was going to be self explanatory, but evidently it is not. I do not recommend you use the above NT4 hack on Windows 2000. Here is a brief overview of how to do it:
Control Panel, Regional Options
General tab, under Language settings for the system
Tick Japanese, set it as default if you want to run native Japanese apps (eg Office 97/98). It sets code page 932 as the default -- this may break other things if you are not careful!
Insert Windows CD, reboot, etc.
Control Panel, System
Hardware tab, Device Manager
Find your keyboard device (probably says PC/AT Enhanced PS/2 Keyboard)
Double click to bring up the properties
Driver tab, Update Driver
Next, then Display a list of known drivers
Show all hardware of this device class
Manufacturer: (Standard keyboards), Device: Japanese PS/2 Keyboard (106/109 key)
Ignore the warning and hit yes
Install the driver, reboot, etc etc ...
Control Panel, Regional Options
Input Locales tab, click Add
If you want to use Japanese: Language=Japanese Keyboard layout=Japanese Input System MS-IME2000
If you want to use another language: Language=your language layout=Japanese
Or do both and switch between them.
So perhaps it as not quite as simple, having written down the steps. Caveats: I don't know what happens if you use a USB keyboard instead of a PS/2-AT one. There is also only one layout under W2K, as opposed to several under NT.
You can change the user interface language of IME 2000 between Japanese and English. Go into the IME properties box and it's on the first screen. The usefulness of this is debatable, but hey.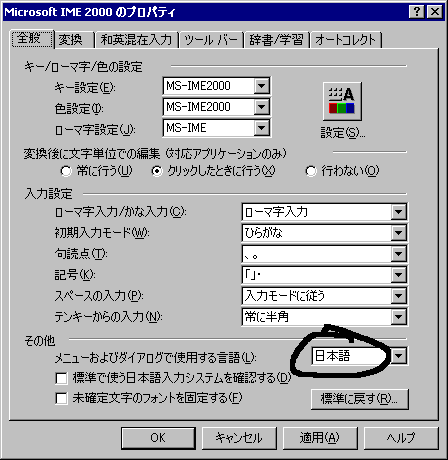 Installing Japanese Keyboards on Windows XP
This assumes you are using a PS/2 Keyboard and Mouse. Other types will have to make a different selection from the list of standard keyboards.
Go to Control Panel->Printers and Other Hardware->Keyboards
Click on the "Hardware" tab and the keyboard connected to the system will show.
Click on the "Properties" button and another window displays the keyboard properties
Click on the "Driver" tab
Click on the "Update Driver" button on the Driver screen
The "Update Driver Wizard" will run.
Click the "Install From a Specific Location" button (NOT AUTOMATIC) and the "Next" button.
Click the "Don't seach. I will choose the driver to install" option and the "Next" button.
On the next screen, uncheck the "Show compatible hardware" checkbox and choose the Japanese PS/2 Keyboard (106/109 Key) from the list of "(Standard keyboards)".
Ignore warnings and reboot.
... 95, 98, Me
This is documented in many places. I think.